Visionary leaders, influential achievers, and motivated entrepreneurs were recognized at the Economic Times Business Excellence 2020.
The Elite platform of Economic Times Business Excellence 2020 identified and honored the professionals who have envisioned and exhibited outstanding industry achievements.
It is a proud and prestigious moment to share that our Beloved Founder & President, Mr. S.P. Saju Bhaskar, has been honored with "The Most Promising Entrepreneur of the Year 2020" award by The Economic Times.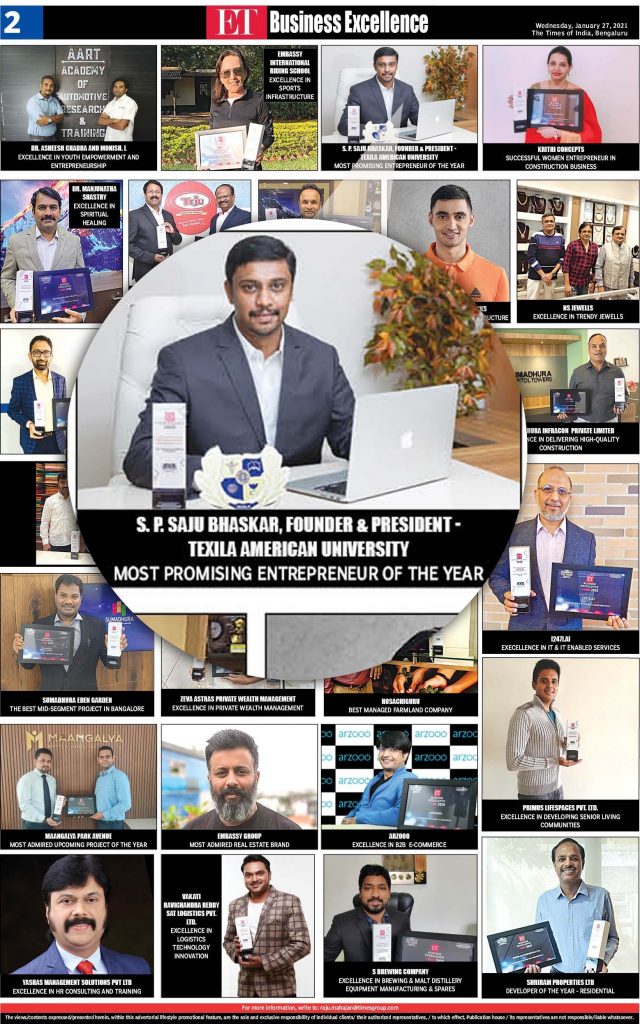 Below is the message delivered by Mr. S.P. Saju Bhaskar on this occasion,
Since Texila's inception, we have been following the practice: "Organization is about recognizing the importance of delivering an experience that makes us stand out from the competition."
Even during these challenging times of the pandemic, we have never failed to provide our customers with the best services in the market. One of the most significant acknowledgments that we have received is The Business Excellence 2020 award presented by the Economic Times.
The Economic Times – Business Excellence 2020 event was one of its kind opportunities to inspire and applaud next-generation go-getters, share best practices, and unite businesses amidst the "new normal." It gives immense pleasure to get "The Most Promising Entrepreneur of the Year" from The Economic Times. I extend my sincere thanks to the senior leadership team and the Texila American University staff members for providing immense support throughout the year. It would not have been possible without the utmost efforts shown by them.
The ultimate and futuristic goal of Texila is to "Bringing Education to Life." As a well-known academic services provider, we aim to offer students the best knowledge with Innovative techniques and training, thereby making a positive contribution to the world.
My special thanks to The Economic Times & The Times of India for their timely recognition and identifying and encouraging innovative business models. This kind of reward is an inspiring recognition to move forward with feel-good vibes and hard work. It helps us to stay positive, encouraged, and motivated despite all odds.
This award has provided a much-needed encouragement to entrepreneurs like us in performing better and set new benchmarks for India's growth and development.
Source: https://gy.tauedu.org/